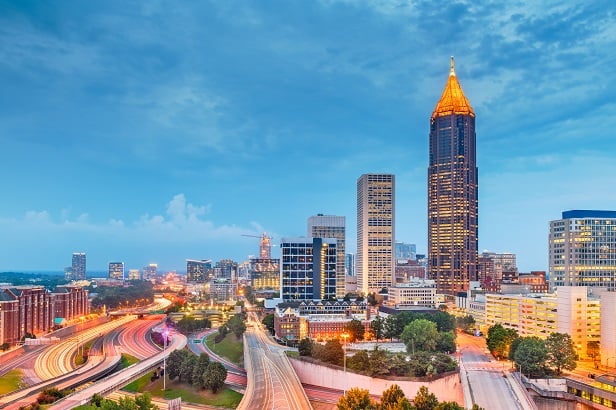 Atlanta's downtown commercial real estate occupancy levels remained stable during the second quarter of 2020 despite the pandemic that had many office workers telecommuting from home, according to a new report by Colliers International.
"For the most part, downtown is managing pretty well," said Scott Amoson, senior vice president of director of research at Colliers' Atlanta office. Although downtown office leasing slowed during the first two quarters, largely driven by the pandemic, "That doesn't mean the market is dead at all."
Amoson said he doesn't expect a lot of move-outs through the end of the year. He also said there are several moves in the works that would fill downtown office space by the end of this year or early next year and potentially move the downtown market's net absorption back in positive territory.
Net absorption in the downtown office real estate market has been negative so far in 2020, driven by Anthem's long-planned move out of the 150,000 square feet in the Bank of America building to expanded digs in Midtown, Amoson said. That move, which predated the pandemic, left Atlanta's downtown office real estate market with the second-highest occupancy loss so far this year although it was a substantial net boost to the city's overall office real estate market, Amoson said.
The downtown office vacancy rate currently sits at 12.7%, up from 12.6% in Q1, according to the report.
But he said the forecast for the remainder of 2020 remains somewhat of a toss-up because of an uptick in pandemic-driven subleases that Amoson said "we are keeping an eye on" — a possible signal that those tenants may vacate the premises by the end of the year.
"We have definitely seen an increase [in subletting] since March," he said. "It could be a number of things — cost-cutting measures, whether some of these companies realize they can work efficiently with employees at home and don't need that space anymore." That trend is market-wide, he said.
"We don't see any huge swings at all that would be unexpected," he added. "I haven't seen anything huge, especially downtown, that would be alarming to us."
Amoson said the downtown market's net absorption will probably remain negative through the third quarter. "But there have been some pretty decent size leases done in the downtown market. Once they take occupancy late this year or early next year, we could be back to a positive gain."
"For us in Atlanta, we will benefit more than we are going to be negatively impacted by the pandemic. … A lot of companies want to move to our location because of the talent we have here and the business climate."